Nassau Circle Awards Page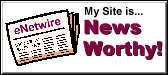 Below are latest awards this web site has won: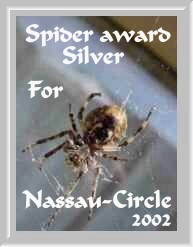 Special thanks to all the judges who gave this site their award.
If you offer a web site award, the author would be love to win!
Click above to vote Nassau Circle as a Top 50 Award Winning Web Site!
To see many of the most awarded web sites, click the above logo to Vote.

---

Home | Orders | Front | Back | Inside Front | Inside Back | 17th Hole | Links | Awards
---


Back to top of Home Page for the murder mystery novel Nassau Circle!
E-mail testimonials about Nassau Circle by author James Ray Chapman!
Cast vote for Nassau Circle on the Top 50 Award Winning Web Site List!
Photos copyright © 2000 by James R. Chapman - author of Nassau Circle.
Design copyright © 2006 by Bob Chapman (webmaster@nassau-circle.com)
Site maintained by Award Winning Web Site Designs. All Rights Reserved.